For a number of years now TKS have been travelling to a variety of destinations for a weekend of workshopping and team building. Our most recent trip (pre pandemic of course!!) was to Waterford City from Friday 28th Feb 2019 to Sun 1st Mar 2019. 
Friday evening is all about relaxing and having a bite to eat, enjoying one or two of your favourite tipple and a good natter.
Saturday is about getting down to the business at hand. Our own special MD, Emer Hartnett, works with the choir on dynamics, breathing, and maximising performance levels on a variety of numbers from our repertoire. Typically, this runs from midmorning to lunchtime. 
Saturday afternoon we invite in a guest MD to add their ear and experience to give us their take on those same pieces and this session is a huge favourite with the choir. For this session our guest MD was none other than the incomparable, David Hayes. This was not our first time to have David with us as he has worked with TKS many times and even penned his own really special arrangement of an old Irish folk song, "Beidh Aonach Amarach", just for TKS in the past. This short blog can't begin to capture David's body of work as a musician, MD, composer and lecturer. ( ask Mr Google!!).
Saturday evening comes far too quickly but we can relax with a communal dinner and a glass or two (sure you'd be thirsty after all that singing!!). If anyone has a voice left they can regale the group with their own favourite backed up by our own "in-house" band.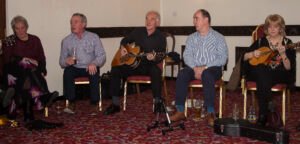 Sunday morning is all about the long chat over a lazy breakfast to send us all home in good mood.